Tom Kane has had a long and distinguished career in the film and television industry. As a Producer, Production Manager and Assistant Director, his clients have included Twentieth Century Fox, Miramax Films, Columbia Pictures, United Artists, Warner Bros., ABC Motion Pictures, Turner Network Television, CBS, NBC, ABC-TV and Hallmark Entertainment, among many others.
Tom began his career in New York City working on numerous box office successes such as Prizzi's Honor, Taxi Driver, Raging Bull, academy award-winning Kramer vs. Kramer, An Unmarried Woman, The Turning Point, Night Hawks, Swimming to Cambodia andThe Flamingo Kid, alongside distinguished directors that include John Huston, Martin Scorsese, Robert Benton, Paul Mazursky, Herb Ross and Garry Marshall. Tom has worked with such notable actors as Jack Nicholson, Robert DeNiro, Meryl Streep, Dustin Hoffman, Ed Harris, Glenn Close, Elijah Wood, Pierce Brosnan, Sylvester Stallone, Spaulding Gray and Matt Dillon. For a complete list of actors, click here.
After 16 years in New York City, Tom moved to Los Angeles to produce two television series, Fortune Dane, followed by the critically acclaimed Sledgehammer! both for ABC-Television. From 1988 to 1990, he served as Vice President of Production for the Weintraub Entertainment Group, overseeing all production. Immediately following, he produced for TNT, Riders of the Purple Sage (Ed Harris), Last Stand at Saber River (Tom Selleck), The Day Lincoln Was Shot (Rob Morrow), and Crossfire Trail (Tom Selleck). Tom most recently served as Producer on the Hallmark Hall of Fame production Brush With Fate, which is based on the best selling novel Girl In Hyacinth Blue, and filmed in The Netherlands. The film aired on CBS and starred Glenn Close, Ellen Burstyn and Thomas Gibson. He currently freelances as a Producer and/or Production Manager and is a long-time member of the Directors Guild of America.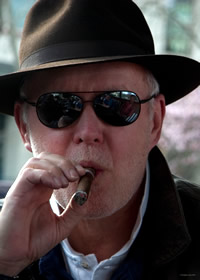 Since 1984, Tom has taught film and television production to hundreds of students from all over the world. He created "The Line Producer,UPM, AD Workshop" for The International Film & Television Workshops in Rockport, Maine (www.mainemedia.edu), where he taught for 12 years.
Tom currently teaches his 3-day film/video production workshop throughout the U.S. and abroad.