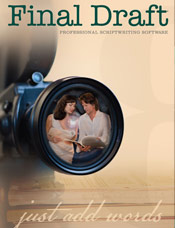 Screenwriting software applications combine powerful word processing with professional script formatting in one self-contained, easy-to-use package. There is no need to learn about script formatting rules – screenwriting softwareautomatically paginates and formats your script to industry standards as you write. 
Final Draft is the industry standard, but there are many different screewriting softwares available for every writer. 
Final Draft users include Academy®, Emmy® and BAFTA® award winning writers like Oliver Stone, Tom Hanks, Alan Ball, J.J. Abrams, James Cameron and more.
Additional Screenwriting Tools

Movie Magic Screenwriter
Writer/Producers, TV Sitcom staff, Multimedia creators, and power writers love the supercharged features of Movie Magic Screenwriter. Screenwriter has consummate format control for screenplay, sit-com, stage play, or multimedia formats with just the TAB and ENTER keys.

Montage Screenwriting Software
Montage is the only screenwriting software exclusively developed for Mac OS X. Montage has the ability to import Final Draft documents, and uses custom, pre-formatted templates for film, TV, radio, and theater.